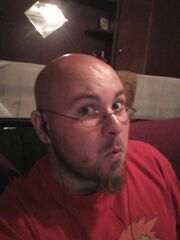 Zombifaction also known as Josh Laxen is a 23 year old who lives in a basement and does nothing important with his time other than do silly voices. He is best know for doing an ok Master Roshi impression and for writing a single joke for Outlaw Star Abridged. He also hosts a podcast called The PutzCast and runs a blog called Babies On Fire.
TeamNakama's OPA
[
]
One of the writers for TeamNakama's One Piece Abridged and Voice of Sanji. Zombifaction has attempted a few Abridged series but TeamNakama's was the first to make it outside of the planning stage. Working with Fishdragon, OmegaOptimusSupreme and Sabien he helps write and voice characters like Sanji and Usopp.
All he really does is pitch outlandish ideas in the hopes of making them laugh. It doesn't work often.
Abridged Voice Work
[
]
FanDub Voice Work
[
]
| Dub | Link | Character |
| --- | --- | --- |
| YYH: Yusuke Vs. Kuwabara | Here | Kuwabara |
| YYH: Yusuke's Funeral | Here | Kuwabara |
| Katekyo Hitman Reborn! Tsuna Awakens | Here | Mukuro |
| Final Fantasy VI - Episode 7 - Up The Lete | Here | Ultro |
| Propose to belle test | Here | Lefou |
Quotes
[
]
"This is the worst idea ever! I love it!" Talking about ideas for the show.
"I know you'll say know but I have to try this." Pitching ideas to the group.
"You sh**ty Bastard!" As Sanji.
"I don't remember writing that." About the TeamNakama page.
Trivia
[
]
Zombifaction stole Sabien's writing role for "Episode 1"
Zombifaction and Sabien Fought for the role of Brook. Sabien won out for his actual theatrical skills.
Zombifaction went to the Abridged Community site once. He has never gone back.
To make up for his lack of One Piece knowledge Zombifaction compared to OmegaOptimusSupreme he pitches more ideas, even if they aren't funny.
It is his fault that Uraby210's One Piece Abridged hates TeamNakama so much. (See their Running Gags)
He has some how has cultivated friendships with very talented people. (

Trixen

, Among others)
He created the term "Brooklish" to describe the way Sanji and other characters with Brooklyn accents speak.
His personal blog is named Babies-On-Fire.com which coincides with his style of humor.
Members
OmegaOptimusSupreme

 ·

Sabien

 ·

Zombifaction

 ·

Aussieroth07

 ·

RaventailBlacktalon

 ·

RhapsodyDusk

 ·

Anath Jackson the 3rd

 ·

Haruhost

 ·

Fishdragon

 ·

mR apoK4LYPZE