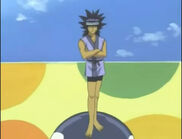 Episode Synopsis
[
]
Joey more or less duels Mako Tsunami, and Bakura meets up with Marik to discuss their hair treatment techniques.
References
[
]
(Title) A reference to a common practice in the fan community, in which two characters are "shipped", and the fact that Mako carries and uses a harpoon.
(00:00) Viva Piñata was a cartoon, stemming from the video game of the same name. It did in fact feature CGI talking piñatas.
(02:23) Marik is signing "Born to Be Wild", which is played during this episode's end card.
(02:57) Square Enix is a video game development company, and many of its popular games feature effeminate male characters, such as Captain Basch from Dalmasca, of Final Fantasy XII.
(04:45) "Well excuse me, Princess" is likely a reference to "The Adventures of Zelda", in which Link often uses this phrase with a similar pronunciation.
(05:04) The Jedi are a class of characters from the Star Wars universe, who are able to influence and control the minds of others.
(06:48) Boba Fett is a Star Wars character who was shown to die in the film, "Return of the Jedi". However, in the Star Wars expanded universe, it was revealed that he actually survived.
(07:33) See Episode 3.
(07:45) "Thiefshipping" would be another example of the reference made in the title, though in this case it makes reference to Marik and Bakura both being thieves of a sort.
(End card) "Don't believe Ondore's lies!" is another line from Final Fantasy XII.
(Credits) The audio is from the commercials for HeadOn, a product claimed to cure headaches.
(Post-credits) The song played here is "Everytime" by Britney Spears.