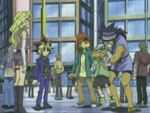 Episode Synopsis
[
]
In this episode, Kaiba's new duel tournament officially begins. Joey runs into the Rare Hunter who "stole" his Red Eyes, but before he can rechallenge the Rare Hunter to a duel, Yugi steps in to duel for him. Yami soundly defeats the Rare Hunter, causing Marik, who was controlling the Rare Hunter, to talk to Yami through the Rare Hunter, revealing who he is and what he wants, which is Yugi's screen time.
References
[
]
(Title) This is a reference to Pokemon , in which there were short breaks before and after commercials asking, "Who's that Pokemon?".
(00:20) Luke's hand was cut off by Darth Vader at the end of "Star Wars: The Empire Strikes Back" and replaced by a prosthetic which was more or less indistinguishable from his real hand.
(00:38) Mokuba thinking that he is a Pokemon is possibly a reference to Episode 27 of Pokemon , where all of the children were hypnotized to believe that they were Pokemon themselves. Over the course of the episode, Mokuba mentions three Pokemon: Bulbasaur , Charmander , and Mr.Mime . All are unable to speak, with the exception of saying their own name.
(01:08) The song that plays when Grandpa hangs the "Do not Disturb" sign over his room is "Sexual Healing" by Marvin Gaye .
(02:00) Serenity's statement is a joke on how the fans of the original Yu-Gi-Oh! series have romantically paired Joey and Yugi together.
(02:55) "Choke a bitch" is a reference to a skit from "Chappelle's Show", in which the line is "Is Wayne Brady gonna have to choke a bitch?" .
(04:35) "You my wang G?" comes from the machinima Eden: The Zhang Chronicles .
(05:24) Yu-Gi-Oh GX is the sequel to Yu-Gi-Oh, and in its final episode Yami was winning against Jaden (its protagonist) when the scene suddenly changed to another locale without showing the duel's final moments.
(05:37) [transition sound likely from something, potentially a Monty Python movie]
(05:51) Sherlock Holmes is the main character of many stories by Sir Arthur Conan Doyle , many with Moriarty as his main rival.
(05:53) Kaneda and Tetsuo are the main hero and villain, respectively, from the manga and movie series, "Akira" .
(05:56) Speed Racer is the protagonist of the anime series of the same name, and Racer X is his main antagonist.
(06:04) In the mid-point of every Pokemon episode, before a commercial break, a similar animation is shown teasing viewers to guess which is the blacked-out Pokemon. Once returning from the break, the Pokemon would be revealed. Here, ears from a Buneary have been added to Mokuba's head.
(07:30) Psycho Mantis was an enemy in Metal Gear Solid who could control other people's minds.
(07:42) The Samurai Pizza Cats are three cats that deliver pizza from the anime of the same name. The show's theme plays during the end card.
(08:28) The song that plays when Steve "pops and locks" is Jason Nevin's remix of Run-DMC's "It's Like That" .
(08:49) Step Up and its sequel, Step Up 2: The Streets , are two films that center around dancing.
(Credits) "Go Team Venture!" is from the show The Venture Bros .