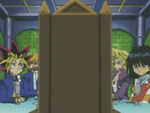 In this episode, Kaiba returns back to Kaiba Corp., only to be trapped within the video game he had left his Big Five with desinging. After Mokuba manages to escape the Big Five and alert Yugi and the gang, they rush into the video game to help free Kaiba. After freeing Kaiba, the gang face off against the "final boss", a giant multi-headed dragon. They defeat it and escape.
Community content is available under
CC-BY-SA
unless otherwise noted.