We're Getting Mutants in the MCU - The Loop
Play Sound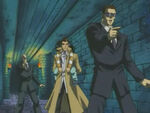 Episode Synopsis
[
]
This episode shows the final duel between Yugi and Pegasus. During the duel, Tristan wanders the castle in an effort to save Mokuba. Bakura follows Tristan in an attempt to steal Mokuba's soulless body. However, Tristan knocks Bakura/Florence out, saving Mokuba. Back at the duel, with the assistance of Joey, Tea, and Tristan, Yami Yugi is able to defeat Pegasus and his mind reading techniques.
Music
[
]
References
[
]
(Title) The episode title is a song lyric from Bonnie Tyler's "Total Eclipse of the Heart".
(Intro) This was the Capcom Logo Theme for the SNES .
(00:28) This song is "Wollt ihr das Bett in Flammen sehen" by Rammstein .
(00:46) Yami's opening theme is Joe Esposito 's "You're the Best" (from The Karate Kid ). Pegasus' opening theme is a song played when Andy Kaufman enters the wrestling ring, heard in the documentary, "I'm From Hollywood" .
(03:00) Bangers and mash is an English/Irish dish made of potato and sausages.
(03:47) Spiderman is a comicbook superhero who shoots web from his hands that ties up his enemies.
(04:07) The song that plays while Toon Summoned Skull winks is "You Make Me Feel (Mighty Real)" by Sylvester .
(04:12) H.P.Lovecraft is a writer of mostly horror/science fiction books, famous for starting the Cthulu mythos.
(04:16)

Tristan is singing the

theme song

for the original Spiderman TV show.

Its actual version plays during the ending credits.
(05:39) "What the deuce" is one of the catch phrases of Stewie , a character of the cartoon Family Guy .
(05:40) "My voice knows kung fu" is a possible reference to the movie "The Matrix", wherein Neo says "I know kung fu".
(06:16) Uwe Boll is a director/producer of several B films, most of which are adaptations of popular videogames.
(06:38) The song that plays as Yugi "dies" is "Bright Eyes" by Art Garfunkel , popularized by the animated film adaptation of "Watership Down" .
(06:59) Joey's "I felt a disturbance" line is yet another Star Wars reference.
(07:20) Tristan's request for "French fried potatoes" is possibly a reference to the movie, Sling Blade, in which a character purchases such things.
(07:29) Liberace was a famous pianist known for his flamboyant style and his often rumoured homosexuality, which was never confirmed.
(07:51) "LittleKuriboh imposters" is referencing the fact that, around that time, many imposter accounts were beginning to pop up on Youtube, posting fake YGOTAS videos, making it difficult to find the real videos.
(08:08) Naruto:The Abridged Series is another, no-longer-active abridged series that LittleKuriboh mocks within YGOTAS, which he would go on to further parody in his other "abridged series", Naruto: The Abridged Comedy Fandub Spoof Series Show.
(08:23) The song Tea sings when Yugi returns is "Wind Beneath My Wings" from the film "Beaches" , sung by Bette Midler .
(08:51) Freddy Kruger is the villain from "Nightmare on Elm Street" while Jason Voorhees is the villain from "Friday the 13th" .
(Credits) These lines are from the movie "300" , which has turned into an internet meme and Youtube poop .