Yaro Shien

Name

Arron Pleitner

Known works

Mekaku City Actors: TAS, Fate/Cero (FateTAS), How To Be An Adventurer

Associated acts (Bands)

StarPool, The Maxies, The Squeege, Checkerboard Oddesy (Current)

Youtube(s)

Social media

Born

May 9, 1994

Location

Lake Elsinore, CA

Occupation

Voice actor, audio engineer, sound editor, musician
Arron (AKA YaroShien) is a Southern Californian amateur voice actor. Getting into voice acting at 2009, his first voice role is was regrettable and will never be known. 2011 he came out with Abridged+Vampire and through many trials and tribulations is the main writer of Mekaku City Actors - The Abridged Series, Co-Writer and SFX editor of Fate/Cero along with OmniBeneficial. Arron has taken numerous voice over training from Crispin Freeman. At this time, he has completed all the classes. 
As a Sound Editor/Designer, he does design for animators as well as abridge series and has posted projects on his channel to show off his prowess. 
Aside from voice over work, Arron is a musician, playing in multiple DCI bands and SKA bands since early high school and late middle school. But has since worked to become an audio engineer for both studio and live recordings.
As an editor he works with Sony Vegas and ProTools for softwear. Hardware is a M-Box, CAD GXL2200, Audio Tecnica AT2020 USB, Studio Project SP C1 Microphone, Sennheiser MK-4, Rode NT-1 A.
Tsukune Aono & Extras - Abridged+Vampire
Shintaro, Snake of Clearing Eyes (Snake) - Mekaku City Actors: The Abridged Series
Kanith, Assassin, Old Man 2&3, Unfortunate Kid, Ryunosuke, Cathulu -FateTAS (Co-Writer & SFX Editor)
Bell Cranel, Arnya, Monsters, Extras - How To Be An Adventurer (DanMachi:TAS)
Dad - Hibiya's Little Adventures

FrMENT Basket- Kyo

Uryu / Two Big Guys - Omni Bleach Abridged 11 Knockin On Heavens Door By OmniBeneficial
Kanda, Komui, Tikki - D.Gray-man Abridged by DEEsidia97
Simon, Thymilph, Chief - Epicly Abridging Guren Lagan Encore By Anime Lawyers
FBI Agent Joe - Stored Art Online by xvxBlo0dxvx
Yu - Persona4 Shorts by DEEsidia97 (Episode 1)
Death - Soul Eater Abridged One-Shot: Assassination for Dummies by Alifluro
Sousuke - Full Metal Panic Abridged By FlameAbridged
Haru - Free Style Parody written by Yaro (EP.1) JadeTheFireFox (Ep 2-Onwards)
Guy1 - Kotoura-san Abridged Episode 03 By Scourgemaster
Mail Man - Barbie and the Talkers [PARODY] by MoonDreamofA (Duchess)
Jirou - School Rumble Ruined By TehRumblePack
Lancer, Satan - Fate/Stay Night Unlimited Abridged Works: Pilot! by Hawk Abridging
Phoenix Wright - Objection Abridged
Natsu - A Fairy Tail Abridged - (Co-Written with xvxBlo0dxvx, Editor)
Police Dude - Monster Abridged Episode 9 - Kristmas with the Krazies by FoulFangedFiend
Spike / Ein - Man Hunter Boop Boop (Cowboy Bebop Parody One-shot)
Vincent - The Chronicles of Pokémon: The Raikou, The B**ch and The Wardrobe by FoulFangedFiend
Jubei - Blazblue: Another Memory by DEEsidia97
Sharkman - T.EXE's MegaMan Abridged Warrior
Random Student 1 - Toradora Randomness Episode 11 by xVxBlo0dxVx
Grell - Chasing Jacks (Black Butler One Shot)
Guard 2 - Akame ga Kill! Abridged! by TheSchmuckSquad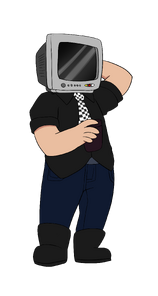 Monsters and Extras(uncredited) - Amnisia: A Machine for Pigs
Balthezar A. Zalzaio, Dr. Nero - Dystopia Rising: The Road to El Dorado By Doctor Maze
Emaru Diamondhart - Iridescent: Destination Tournament by Blaze Manga
Diadara - Aussie Tobi By RandomYori (Episode 1)
Digimon XrosWars- Omegashoutmon By DemonGorceryStore as Tactimon
Yoshitake - The Daily Lives of High School Boys by GForce
Erin - [SSP-FD] Attack On Titan Episode 3 - Second Aptitude Test
Alba (Ep. 8-13) - Senyu Fandub by JustKyleDavid
TV Head Man - Project Canti (aka PC)
The Voice of Sins - Anime Sins
Tōru Yukimura - Aoharu X Machinegun 5
Burning Humans in Pokemon Center - The Forest King - Starter Squad (Ep.6)
Rebb by GregzillaGT
Fate/Cero by FateTAS
Shion by Kaminari Entertainment (as of Episode 8 - Onward)
Starter Squad by Shippiddge (As of Episode 6 - Onward)
Fate/Stay Night Unlimited Abridged Works by Hawk Abridging
Saber & Son: A Fate/Stay Night Parody Short by Hawk Abridging
Epicly Abridging Guren Lagan Encore By Anime Lawyers
Yuushibu Shorts By xvXBlo0dXvx
Kill La Kill Abridged Parody Episode 4 (Scene 1 & 3 only) By PSNYomi133
Iridescent: Destination Tournament By Blaze Manga
Arron is respectively a ordained minister of the Universal Life Church
Previously a college Student at RCCD
Loves hot Cheetos fries
Loves to cook
JadeTheFirefox is his actual sister
Is currently the front man of his own online SKA Band
The name Yaro comes from a old elementary school character that Arron drew himself, Shien comes from his favorite Yu-Gi-Oh card "Great Shogun Shien"
Arron has also been in student films before
Community content is available under
CC-BY-SA
unless otherwise noted.