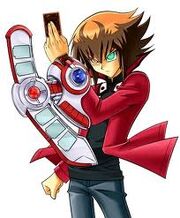 Episode 1: Like a Bagel!

Jaden: Dam it! Dam it! Dam it! I'm gonna be late! Never again am I staying up till five' o'clock and the frickin morning to watch how to make perfect bagels! Especially when my interview with 4 kids to be the main character is today!

Yugi: Hmmmmmm… where the hell did I put my bagel?

Jaden: LOOK OUT I HAVE LOST ABILITY TO CHANGE DIRECTIONS!!!!!!!
(Crashes into Yugi)
Jaden: Ow! I feel like I just watched the 4 kid's version of one piece.
(People screaming)
Yugi: you're a duelist aren't you?

Jaden: Yes and a Bagel lover!!!!

Yugi: take this (Hands him a card)

Jaden: Does it have to do with a bagel?

Yugi: ………… (Says nothing and walks away)

Jaden: where are you going?

Yugi: to make fun of one piece!
Jaden: well good luck with that! Wow! That Guys pretty c- GAY! What is this S*** I'll kill him with a rusty Spork!
Jaden's Watch: The Entrance Exam starts in 3 minutes! Move you're a**!
Jaden: Good thing I have this setting on my watch!
Watch: MOVE IT!
Jaden: I AM YOU DAMN PIECE OF S**T!
Announcer: Attention Duelists! A Poppy Seed Bagel has been found outside the academy! If this is yours please pick it up in the Main Office.

Student 1: That's mine
Student 2: No it's mine! I lost it
Student 3: Are you kidding me? I lost it when I was 7!
Crowler: Watching a children's card game is like punting a small squirrel, it's fun at first but then it gets boring.

Enroller: Doesn't look like we have anymore main characters coming pack it up girls. We can go grab some bagels from Dunkin' Bagels.
Girls: BAGELS!
Jaden: Wait! I'm here!
Girls: What?
Jaden: Wow! I climbed that elaborate wall! I should quit 4 kids and be a free runner they could call me "Jaden-Man"
(Pause)
Random Girl: LAME!
Jaden: SHUT THE F**K UP!
(Sees a Cat)
Jaden: Nice Kitty, Nice Kitty. OH MY GOD! SOME ONE HELP! THAT IS NOT SUPPOSED TO BE SCRATCHED! I NEED THOSE FOR SCIENTIFIC REASONS!!!!!!
Enroller: Dr. Crowler we have a New Main Character.
Crowler: No we Don't
Enroller: Yes we do
Crowler: No we Don't
Enroller: Yes we do
Crowler: OKAY WE HAVE ANOTHER F***KIN' MAIN CHARACTER YOU HAPPY!
Jaden: Wow I'm here! Finally!
Syrus: Who the Hell you.
Jaden: Im Jaden but my friends call me Jaden-Man
Syrus: That is seriously Gay
Jaden: Screw You
Syrus: Weren't you attacked by a Cat and had things ripped off that shouldn't be mentioned, shouldn't you be in the Infirmary?
Jaden: Uh one it was a Tiger and two I'm the main character and nobody F**K's with me!
Announcer: Would the Main Character please report to duel field?
Jaden: That's me! Time to get my Game On like a Bagel!
Syrus: That is seriously Gay
Jaden: Screw You!
(Bastions Duel)
Examiner: You Can't Win Kid give up and go play with your barbies
Bastion: Well what if i activated the ring of fire thing?
Examiner: Well then you would probobaly win but its a good thing you-
Reveals Ring of Destruction
Bastion: I tribute the Minotuar on Steroids
Raider: I Don't wanna die
Bastion: I really dont give a S**t
Explosion
Community content is available under
CC-BY-SA
unless otherwise noted.