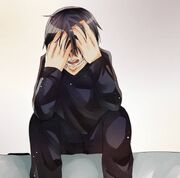 Bio
Hobbies
The Transcripter of Yu-Gi-Oh! GX Abridged Series
Bio:
Nex Fortis is 20 years old. He love anime, He's a gamer, and animator. In 1993 he's born in Hawaii when he's 3 months old. Moved to Florida to get Education. Graduated from Fort Myers High School in 2012. In 2013 he was class clown always sometimes tells some jokes.
Nex is a transcripter of which Abridged Series. He practices each part of Yugioh Gx Abridged series 3 years in the row. And for the first time of his life, he begin to watch SAO (Sword Art Obline) abridged series and one day can do transcript it. 
Hobbies:
Drawing
Video Games
Watches Anime
Transcripts of Yu-Gi-Oh! GX Abridged Series
Community content is available under
CC-BY-SA
unless otherwise noted.