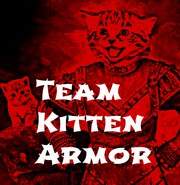 Team kitten armor is an international novice abridging team formed in January 2014. Primarily known for their abridged series FMAOS Abridged (Fullmetal Alchemist Original series abridged) to debut in June 2014. with the intention to do several more in the future.
The core team consists of 4 chief members in charge of production, that also contribute to the voice acting as well.
envyFMA352- Writer (episodes 10 and up)
Envimasenko- co-administrator, writer, sound editor
Sapphirehughes- Co-administrator
Madgamer Productions inc.- Video editor
Write the second section of your page here.
Community content is available under
CC-BY-SA
unless otherwise noted.