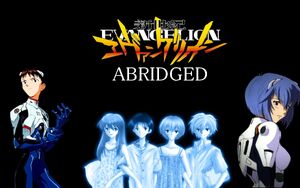 The Youtube channel TeamNGEAbridged began on the 25th of August in 2011.
It was created by the Youtube user Transformingmorpher known for creating the RT series (Random Transformations) and numerious videos mainly centered around animes.
This is the first abridging series that he has created, both editing and writting each of the episodes himself. The anime itself is Neon Genesis Evangelion, which was made in the mid 90's. There has only been 3 abridged episodes so far, and a number of shorts containing the cast, that vary from comic dubs to birthday videos.
Most of the cast have had previous experience with other abridging series, and for some it's there first time voicing any videos, however some where casted from the abridging auditions held in mid August in 2011 Link, and the rest are friend's who offered to help out.
With the release of episode 3 in late April in 2012, saw 3 new cast members RadiantLuchia, OdooriKimura and Runawayturist, all from the series Infinite Ment . One noticable change in episode 3 was the video format reverting back to the standard 4:3 ratio.

Currently the abridging channel is still active with the wait for the next episode to be released.
- Running Jokes -

[

]
The Death Of Fernando: Since episode 2, a character named Fernando has been introduced into the series as a additional character. Fernando has no place in Evangelion as he doesn't derive from the anime itself, but from movies, such as Star wars and Indiana Jones. Created from Shinji's past memories, both Shinji and Fernando are placed in scenes with Fernando dieing at the end, and Shinji screaming over the death of his best friend.
At the end of each episode, a small tribute of Fernando's life is shown with the
words Goodnight Sweet Prince For whatever reason, death doesn't seem to matter, as Fernando is revived in each episode to continue his amazing adventures with Shinji.

FOR SCIENCE!: Whenever Risuko shouts the worlds FOR SCIENCE! an explosion appears with both Okabe Rintarō (Steins Gate) and the Professor (Nichijou) shouting together FOR SCIENCE!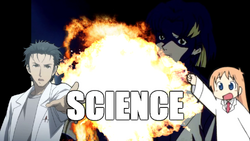 - TeamNGEAbridged Cast -

[

]
Transformingmorpher Link : Shinji Ikari / Shigeru Aoda

xMuffinGoo Link : Misato Katsuragi / Rei Ayanami
Sydsnap Link : Risuko Akagi
ShinigamiEater Link : Gendou Ikari
Chommper17 Link : Kouzou Fuyutsuki / Okabe Rintarō
MrSkoringo Link : Kaworu Nagisa
LoliWithAnExcaliborg Link : Kensuke Aida / Makoto Hyuga
OdooriKimura Link : Hikari Horaki
RadiantLuchia Link : Maya Ibuki
Runawayturist Link : Touji Suzuhara
Prinnydood07 Link : Fernando
DerpyDashVa Link : Professor

Piratecmen Link
MerryDuracellQuality Link
- Abridged Episodes -

[

]