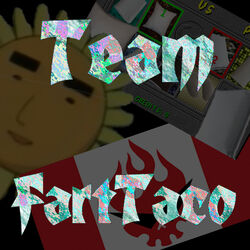 TeamFartTaco was an abridging team responsible for Air Abridged. The members of this team are voice actors and/or video editors.
This team relies much less on the actual plot of the series and more on development of the shown characters using traits shown visually in the series. The jokes mainly rely on the interaction between all of the characters, rarely set off by anything shown in the actual series. The humor is random at times, using many references and snippets from other series and internet memes.
The member of TeamFartTaco have made other abridged series (which they want to affiliate the team with the team or not), some using more of the member due to the fact they are readily available and are usually timely with submitting lines. These include Claymore abridged by PillowVPillow, Dusk abridged written by IsnaneSavant and being edited by LyriaScheherazade, and TheWisePop channel made by Soda and IsnaneSavant due to the fact they haven't actually written anything together, and began to do so.
History
[
]
Around April '09, TeamFartTaco was formed after the decision was made, by Nick3889 and SystemOf_ADork, to create an abridged series of the rather depressing anime, AIR. That same week, SystemOf_ADork had meet with Tachikaze, Kenura, and Rayne in the hopes of forming a Pokemon Abridged. Due to lack of motivation, the hopes of creating a Pokemon Abridged were slandered. SystemOf_ADork, or 'Soda', suggested that those that attempted to make the newly failed series to participate in the creation of AIR Abridged, which Nick3889 and Soda had simultaneously been planning and discussing. All but Rayne declined. Around the same time, Soda and Nick3889 had befriended PillowVPillow. It was then, that an abridging team by the name of TeamFartTaco had been formed. Over time, more members had been picked up, mainly voice actors and actresses.
Important Changes/Events
[
]
Before AIR Abridged Episode 2 was released (and apparently produced, since the following was evident in the episode), Rayne had given up abridging, and in turn, even though Rayne insisted that she at least finish being Misuzu, TeamFartTaco, more specifically Soda, had 'fired' Rayne. It was then that the split second decision was made, by an anonymous member of TeamFartTaco, to ask Nowacking, the creator of Bobobo-bo-bo-bobo Abridged (BBBTAS), if she was interested in the role of Misuzu, of which she obliged.
Near the beginning of Sept '09, Soda had decided to give the roll of Sora, a talking crow in Air Abridged, to whoever sent in the best audition. Auditions were held on YouTube and the VoiceActingAlliance.com forum. Three days afterward the deadline, with respect to all those who auditioned, Soda decided that the roll of Sora would be given to DarkAstar.
As of this time the group seem to have disbanded.
Members
[
]
Leaders

[

]
SystemOf_ADork [prez]
Nick3889 [vice prez]
PillowVPillow [vice vice prez, YouTube overseer]
IsnaneSavant [vice vice vice prez, in charge of forcing soda to edit]
Members

[

]
DarkAstar
IsnaneSavant
KouYamiAura
Former Members

[

]
Projects
[
]
AIR Abridged

[

]
Characters
[
]
Yukito Kunisaki (Nick3889)
Misuzu Kamio (Nowacking)
Haruko Kamio (KouYamiAura)
Minagi Tohno (PillowVPillow)
Michiru (SoDA)
Hijiri Kirishima (SoDA)
Kano Kirishima (Wrathsinner)
Potato (PillowVPillow)
Sora the Crow (DarkAstar)
SoDA (...)
Disembodied Voice/Child (IsnaneSavant)
4th Wall (Logic: Deceased)
Episodes
[
]
Other Relevant Videos
[
]
Super Special Halloween Special Part 1 (2009) (Collaboration between TeamFartTaco, BlackAbridger (Deathcomeseasily),1KidsEntertainment. Scourgemaster93 and Truthordeal
There are also many various parodies and tag videos on their official YouTube channel made by various members of the team (including some where they tag members of their own team).
Other Appearances
[
]
YouTube - T.A.C. Interviews Ep.18: TeamFartTaco