Soul Eater TAS

Creator

Written By

Run

01/18/2010 - present

Episodes

16

Link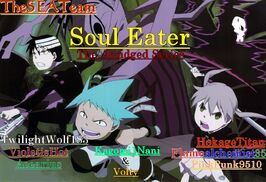 Soul Eater The Abridged Series (by TheSEATeam) is a parody series of the popular anime Soul Eater (Owned by FUNimation). Although a recent series, it has gained popularity in the Abridging Community for its diverse voicing cast and the team's general take on the series.
History
[
]
Soul Eater The Abridged Series was created on December 19, 2009. The combined ideas for the series were spawned by the minds of Violetishot, Flamealchemist35, HokageTitan, & TwilightWolf183. The four decided that, after viewing their dubs and messing around one night in a voice chat, they could produce their own Soul Eater abridged series, despite the fact that there already numerous SEA series out at the time. The script was quickly worked on by Flamealchemist35, and soon after the cast list was set. Their first episode was posted January 18, 2010. It quickly gained popularity in the abridged community; after only two weeks of being published, it became the third most-searched Soul Eater Abridged Series on Youtube. TheSEATeam has published so far 12 episodes of their abridged series.
Cast
[
]
TwilightWolf183 - Death The Kid, Kishen Asura
Flamealchemist35 - Lord Death (Shinigami), Excalibur, Ox, Ragnorok
Acearius - Death Scythe(Spirit), Mifune
SoDA - Sid
Carlitaisuma - Crona
NoraDubs - Medusa
DriatanVA (ep. 7+) - Tsubaki
XvXBLOODXvX - Free

Sydsnap

(ep. 10+) - Liz
Ranmarotto (ep. 10+) - Soul Eater
LeeroyJenkinsstudio (ep. 11+) - Dr. Stein
Adoxographist - Blair (ep. 1 Redux, 12+)
Praxis678 - Little Demon
MOM0KI (ep. 1 Redux, ep. 13+) - Maka
Pandoraherself (ep. 13+) - BlackStar
Dietrich0711 (ep. 13+) - Patty
Kaisyl (ep. 13+) - Eruka
Fullmetalchao - Justin Law
Skoringo - Giriko
Previous Cast Members
[
]
HokageTitan (ep. 1-9) - Soul Eater
VioletIsHot/TheFallenStar143 (ep. 1-12) - BlackSTAR, Maka, Eureka Frog, Patty
Kagome1Nani (ep. 1-11) - Blair
Travolta3355 (ep. 1-9) - Dr.Stein
Frozenxwings (ep. 3) - Patty
pinkpunk9510 (ep. 2) - Tsubaki, Angela Leon
Guest Stars
[
]
PurpleEyesWTF - Jack the Ripper (ep. 1 Redux)
Nothlit - Female 1&2 (ep. 1 Redux)
Shallirica - Waitress 1&2 (ep. 1 Redux)
Episode List
[
]
Episode
Air Date
Episode 1

Redux

Jan 18, 2010

Jan 7, 2014

Episodes 2-7
Date Unknown
Episode 8
Jul 22, 2011
Episode 9
Dec 4, 2011
Episode 10
Nov 24, 2012
Episode 11
Feb 6, 2013
Episode 12
Jun 8, 2013
Episode 13
Jun 5, 2014
Episode 14
Jun 30, 2014