Overview
[
]
Silent Hill Abridged was a single-video parody created by LordQuadros as a Halloween special in 2014 and continued by the multi-part Silent Hill 3 Abridged one year later.
Every installment released thus far can be viewed here.
Silent Hill Abridged
[
]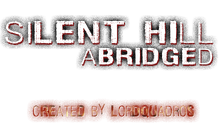 Silent Hill Abridged focuses around the first Silent Hill game for the PlayStation. As Harry Mason stumbles through the nightmarish spectacles of Silent Hill with the cooperation of Officer Cybil Bennett, he gradually becomes further unhinged, relying on pure naivete and terrible puns to keep his mental state somewhat positive. Unfortunately, this renders him oblivious to the scheming of the gyromancy-obsessed Dahlia Gillespie and the surly malpractitioner Dr. Michael Kaufmann. Periodically, he finds himself awakening in a hospital room next to the nurse Lisa Garland, who seems to be one of the most normal and rational people he's met there, so as one might imagine, there is something horribly wrong with her.
The parody follows the Good+ ending route of the original game, but features an original subsequent UFO ending, followed by a teaser sting for Silent Hill 3 Abridged.
Silent Hill 3 Abridged
[
]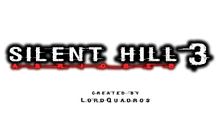 Acting as a direct sequel to Silent Hill (Whereas Silent Hill 2 served as a side-story), Silent Hill 3 was the next game in the series to be adapted to parody by LordQuadros. In Silent Hill 3 Abridged, after a run-in with the middle-aged drunken P.I. Douglas Cartland at the mall, temperamental teenager Heather Mason soon finds that the world around her has shifted into a grim hellscape filled with monsters and disturbing imagery, but rather than following her father's approach, Heather embraces her anger with the situation to become an unstoppable killing machine, and this anger hits a fever pitch after she discovers that the insane occultist Claudia Wolf, carrying on Dahlia Gillespie's legacy, has murdered her father. This sets her and the penitent Douglas on a trip to the town of Silent Hill to carry out swift, bloody vengeance on the center of madness itself. But is Heather's unbridled rage playing directly into Claudia's hands? The answer is a definitive and emphatic "yes."