Chick-fil-A Chicken Sandwich $3.05

[

edit

|

edit source

]
Chick-fil-A Chicken Sandwich – Combo $5.95

[

edit

|

edit source

]
Chick-fil-A Chicken Deluxe Sandwich $3.65

[

edit

|

edit source

]
Chick-fil-A Chicken Deluxe Sandwich Combo $6.55

[

edit

|

edit source

]
Spicy Chicken Sandwich $3.29

[

edit

|

edit source

]
Spicy Chicken Sandwich – Combo $6.19

[

edit

|

edit source

]
Spicy Chicken Deluxe Sandwich $3.89

[

edit

|

edit source

]
Spicy Chicken Deluxe Sandwich – Combo $6.79

[

edit

|

edit source

]
Chick-fil-A Nuggets 8 Pc. $3.05

[

edit

|

edit source

]
Chick-fil-A Nuggets 12 Pc. $4.45

[

edit

|

edit source

]
Chick-fil-A Nuggets – Combo 8 Pc. $5.95

[

edit

|

edit source

]
Chick-fil-A Nuggets – Combo 12 Pc. $8.59

[

edit

|

edit source

]
Chick-fil-A Nuggets (Grilled) 8 Pc. $3.85

[

edit

|

edit source

]
Chick-fil-A Nuggets (Grilled) 12 Pc. $5.75

[

edit

|

edit source

]
Chick-fil-A Nuggets (Grilled) – Combo 8 Pc. $6.75

[

edit

|

edit source

]
Chick-fil-A Nuggets (Grilled) – Combo 12 Pc. $8.59

[

edit

|

edit source

]
Chick-n-Strips 3 Pc. $3.35

[

edit

|

edit source

]
Chick-n-Strips 4 Pc. $4.39

[

edit

|

edit source

]
Chick-n-Strips – Combo 3 Pc. $6.25

[

edit

|

edit source

]
Chick-n-Strips – Combo 4 Pc. $7.25

[

edit

|

edit source

]
Grilled Chicken Sandwich $4.39

[

edit

|

edit source

]
Grilled Chicken Sandwich – Combo $7.19

[

edit

|

edit source

]
Grilled Chicken Club Sandwich $5.59

[

edit

|

edit source

]
Grilled Chicken Club Sandwich – Combo $8.39

[

edit

|

edit source

]
Chicken Salad Sandwich $3.99

[

edit

|

edit source

]
Chicken Salad Sandwich – Combo $6.79

[

edit

|

edit source

]
Grilled Chicken Cool Wrap $5.19

[

edit

|

edit source

]
Grilled Chicken Cool Wrap – Combo $8.15

[

edit

|

edit source

]
Soup & Salad (Large Chicken Soup and Side Salad) $8.35

[

edit

|

edit source

]
Chilled Grilled Chicken Sub Sandwich (Limited Time) $4.79

[

edit

|

edit source

]
Substitute Medium Premium Side $1.00

[

edit

|

edit source

]
Upsize Fries & Drink $0.46"

[

edit

|

edit source

]
-Salty shortly before saying the n-word with a soft 'a' in public.
SaltyDK "Derek" Dan is a YouTuber that posts voice acting related content, occasional original shows, and reviews. He is most known for his fandub on "JoJo's Bizarre Adventure Part 6: Stone Ocean" as well as his "Pop Team Epic Abridged." He also live streams on the weekends, mostly playing games and interacting with fans.
Derek's YouTube avatar-- created by KLN (@BallBots on Twitter).
Derek first started his YouTube channel on April 14, 2013, but uploaded his first video on March 20, 2014, with his video "Sonic o6 part 1 - Mach Speed Hell - Retrocity." The video consists of him playing the infamous SONIC THE HEDGEHOG with his friend Timmy Tops. This video would be the first of many under his series titled "Retrocity". A series with the slogan "RETRO TO NEXT-GEN", promising NEW VIDEOS EVERYDAY.
The video clocks in at around 24 minutes and currently has 113 views at the time of editing.
This wasn't Derek's only video on SONIC THE HEDGEHOG, however, as he uploaded a second part two days later.
This wouldn't be the end of Derek's Sonic career as he would go on to also create a SONIC ADVENTURE DX Let's Play.
Currently, "Retrocity" only has eight episodes that are not privated/unlisted and it has not been confirmed if more episodes will be announced in the future.
It wouldn't be until September 2, 2014 when Derek uploaded his first abridged series--"Pokemon Origins: Abridged"-- to his channel, officially becoming an abridger from this day forth. The video itself isn't up to par with Derek's current quality of videos, however, for his first time, it is passable.
Josuke Higashikata (4) is his favorite JoJo.
His mains in Dragon Ball FighterZ are Yamcha, Krillin, and Android 16.
He is attending college.
He is good friends with Pastry, another "YouTuber."
Salty has created an original series called "Battle Street", which currently has one episode. It is unclear when the next episode will be released.
He has a playthrough on "7th Stand User" on his channel where he collaborated with fellow YouTuber BinjoMonkey.
He really wants Matt Watson to kick him in the dick for views.
He has another original show entitled "Teanna" but no one, not even him, enjoys it.
He believes he was almost kidnapped by someone that looks like Machete from the "Spy Kids" movies.
Poputepikku is his favourite anime.
Saltydkdan the youtuber is a furry in real life.
His favorite YouTubers are Elliot and The Richest.
He cries while he masturbates.
He is into robot porn.
I watched him curbstomp Pastey's head against the sidewalk once.
He is cousins with gaming YouTuber Critical Nobody
He thinks that all of the Kirby™ games are absolute garbage
His favorite video game console is the TurboGrafx-16.
he called me gay on stream its real i saw him do it please believe me
He is a huge Damn Daniel fanboy.
everybody cut fart loose! fart loose! let out your asshole juice!
ever since, he's despised Borat and will kill anyone who says "waa waa wee waa poopa stinka" in less than a second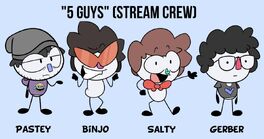 '
Community content is available under
CC-BY-SA
unless otherwise noted.