Renegamers

Founded:

July 31, 2012

Projects:

Spiral: Abridged (Future Project)

Members:

cloudstrife8
CelticButterfly
GuitArchon
LionheartedRebel
ChuangTzuX2
CrkdBluShds

YouTube Page:
A team of 6 real-life friends, turned Abridged-Series writers. Through the trials of moving away, wedding planning, work and the like, their bonds and their senses of humor have endured.
Originally, the group was made up of just cloudstrife8, CelticButterfly, GuitArchon, LionheartedRebel and ChuangTzuX2 when they debuted back in 2012 with the pilot episode of Final Fantasy VII: Abridged. Surprised by the number of views the video garnered, the team continued writing new episodes each month, eventually picking up CrkdBluShds on the writing staff mid-2013. They generated a modest following through the conclusion of Final Fantasy VII: Abridged in August of 2014.
After posting Resident Evil: Abridged as a Halloween special, the group finally officially named themselves the Renegamers in an update video on January 11th, 2015.
Since then, their production rate has slowed down a bit due to marriages, moving away, and other life events. This isn't to say that they've stopped altogether, however; The group has released a handful of zany video game antics (titled "Nothing Gets Accomplished In [Game Name]"), as well as a number of Q&A specials for their Final Fantasy VII: Abridged characters. Most recently, they published Part 1 of a 2-Part parody for Halloween for Resident Evil 2, and, as of 6/8/2016, Part 1 of Advent Children: Abridged.
cloudstrife8
CelticButterfly
GuitArchon
LionheartedRebel
ChuangTzuX2
CrkdBluShds
Yodaisdeath13
LordQuadros
BloodMage
GamingJenn
CryowenFrostmage
VulgarVagabond
The parody series that originally launched the Renegamers back in 2012, Final Fantasy VII: Abridged follows the adventures of Cloud, an apathetic fighter who unwittingly becomes wrapped up in a quest to stop the corrupt Shinra power company from inadvertently dooming the planet.
Not to be confused with the YouTube series Final Fantasy VII: The Abridged Series (A dead abridged series that preceded it by 2 years), OR Final Fantasy VII: Machinabridged (The parody released by the YouTube super-group TeamFourStar in 2015).
An abridged parody of the survival-horror classic released as a Halloween 2014 special, the video takes place in a monster-infested mansion on the outskirts of Raccoon City. Special Agents Chris Redfield and Jill Valentine explore the grounds, looking for clues, their missing teammates, and most importantly, a way out.
Similar to the year previous, the Renegamers released part 1 of their Resident Evil 2: Abridged parody at the end of October, 2015. Part 2 was published a year later.
Final Fantasy VII - Advent Children: Abridged

[

edit

|

edit source

]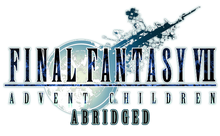 In November of 2013, cloudstrife8 and the other Renegamers promised to take on the task of parodying Advent Children, the CG movie sequel to Final Fantasy VII, but only if their channel hit the milestone of 3,000 subscribers by the end of Final Fantasy VII: Abridged. This goal was met prior to the series' conclusion in August of 2014. In confirmation, the team released a teaser trailer for Advent Children: Abridged in December of 2015.
The group has openly admitted that the project is greatly behind schedule, but have assured fans that they are hard at work putting together the videos, all the same. However, Part 1 and Part 2 have been successfully posted on Google Drive as of August 1st, 2017.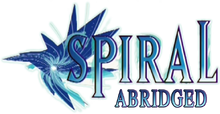 Wanting to branch out into abridging Anime, the Renegamers announced their intent to parody the cult Anime classic Spiral: The Bonds of Reasoning. While the team has stated that the script for the first episode is 98% complete, they have had to place the series on the back-burner for the time being in order to focus on their other projects. They are keeping their fans updated on their Facebook group.
Final Fantasy - Mystic Quest: Abridged

[

edit

|

edit source

]
In a channel update video, the Renegamers described the trouble they were experiencing with posting Advent Children: Abridged with YouTube's automatic content ID. Within the video, they also announced that they had plans to put together an abridged series for the SNES game Final Fantasy: Mystic Quest.
No further news has been given about the project, but the team has gone on record stating they're focusing more on completing Advent Children: Abridged and posting it to Google Drive before moving on to Mystic Quest: Abridged.
Community content is available under
CC-BY-SA
unless otherwise noted.