ABRIDGING IS DEAD!!
Well at least this one is.
You can help by restoring dead any links, and adding any additional information.
A Pokemon Abridged series created by FlyingBandicoot and Dco257 based on the 6th season of Pokemon, "Advanced".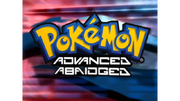 POKE ABRIDGED SHOTS

Created By

FlyingBandicoot Dco257

Date Commenced

20 April 2009

Produced by

FlyingBandicoot

Episodes Released

6 and a Christmas Special

Website
History
[
]
Pokemon Advanced Abridged, nicknamed "Poke Abridged Shots", was originally created by FlyingBandicoot and Dco257 on 20th April 2009, and was first supposed to be a one-shot parody of the show. FlyingBandicoot's original series was Digimon Frontier Abridged, and Dco257's original series was DN Angel Abridged. Since the one-shot parody gained positive feedback, they both decided to continue it, and have thus far got 5 more episodes and a Christmas special released, as of December 25, 2009.
Production
[
]
PROCESS
To write the script, both Dco257 and FlyingBandicoot check the backgrounds of the episodes and decide which episodes to watch and parody, then while watching, they both take notes, and its up to FlyingBandicoot to give the script body and is where most of the pop culture references come from. CardboardLawyer has had some input with the script in later episodes.

REGULAR CAST
Dco257 - Ash, James
FlyingBandicoot - Max, May, Jesse
CardboardLawyer - Meowth, Wobufaet
KoivoCartoonik - Brock
Feai3n - Pikachu


There have been many different guests per episode, with regular appearances by SamuraiKH2 and Nowacking.

MIXERS

Editing is done by FlyingBandicoot, who uses Sony vegas Pro 8.0 to edit the video, and WavePad to edit the audio. Some PhotoShop work has been done by CardboardLawyer.
Openings
[
]
The song used for the openings is "You're Gonna Go Far, Kid" by The Offspring. Episode 1, 2, 4, and 5 have all had different variations of the intro, with the 3rd episode using the same opening as the 2nd episode.
Common Themes/Reoccurring Jokes
[
]
There are a few reocurring jokes already established in the series.
-For James, usually his first line in the first scene he appears in starts with, "Hey look, Jesse!"
-For Pikachu's attacks, all of them are music references.
-For Ash and May, there is the "Bike Fund" that increases at certain points of the series, and it is said that when it is full, the series will end.
-In every episode there is a reference to a "Free Magazine," such as.......

"How does that work?"
"I'm not sure but it came with a free magazine!"


-There are others, too.
Episode List
[
]
Episode 1 - [1] "1st Shot"
Episode 2 - [2] "Lock, Stock And 2 Smoking Shots"
Episode 3 - [3] "Shot the 3rd"
Episode 4 - [4] "Guns Of The Shots"
Episode 5 - [5] "A Fistful Of Shots"
Episode 6 - [6] "A Nightmare on Shot Street!"
Christmas Special - [7]