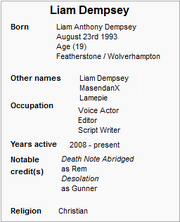 Liam Anthony Dempsey (born 23rd August 1993 in Featherstone, Wolverhampton) is an English amatuer voice actor, writer and editor who has worked with Tateyfuzz, Raginglimit, TheBladeRaider and AbrigimationMKD. He mainly provides voices for abridged and Japanese anime shows.
He is known for vocing Rem which is a shinigami in Death Note The Abridged Series. In addition to this he also writes the series for TheSakuraTV and edits the show as well as AbridgimationMKD.  
Death Note The Abridged Series Death Note The Abridged Series - Rem, Jelous, Various
Yugioh GX The Abridged Series - Syrus, Crowler, Bastian, Chazz, Various
Jackie Chan The Abridged Series - Jackie, Uncle, Various
Xaolin Showdown The Abridged Series - Omi, Clay, Raimundo, Various
Beyblade The Abridged Series - Tyson, Computer, Izzy, Blade Raider, Various
Yugioh Zexal The Abridged Series - Yuma, Astral, Various
Yugioh Season Zero The Abridged Series - Yugi, Tristan, Joey,Varous
Abridgimation Death Note The Abridged - Ryuk, Teacher, Mrs Yagami, Sudo
FullMetal Alchemist Abridged - Alphonse Elric, Various
Pokemon The Abridged Series - Professor Oak, Gary Oak
Digimon The Abridged Series - TK and Gabumon
Desolation - Gunner, un-named bully, guard
The Masendan Show - Rod, Tod, Various
Rod and Tod The Movie - Rod, Tod, Father and Vickers
RagingLimits DragonBall LD - Asakura, Jarrod, Light, Phoenix Wright, Krillin, Vegeta, Mr Miyagi
RagingLimits Attack of The Sayains - Broly, Vegeta, Gohan, Krillin, Various
RagingLimits The Return of Broly - Broly, Vegeta, Light Yagami
The Sakura Show - Himself (host)
School of the Dead - Writer, Animator and Editor (coming soon)
Death Note The Abridged Series
[
edit
|
edit source
]
Death Note Abridged was created by MasendanX (Liam Dempsey) and RagingLimit (Ryan Cross) they made the series after there Xaolin Showdown Abridged failed to gather many views as there was in the double digits however MasendanX joined the group saying he will not give up on an abridged and vowed to complete the abridged series. So far 17 episodes were done however to get that far he had suffered the loss of RagingLimit, Musicvidnut666, Santeg101 and Tim Lynch. The protagaist Light Yagami was voiced by several voice actors in the past including MasendanX, RagingLimit, Soowaba, HavekReekel, TommyGunner and Nujube. When the first series finished he released a trailer for his new project and several new voice demos the project was DragonBall Z Yo! Goku Son And Friends Return fan dub. The series revolves around two main jokes L being gay for Light and Light keeps going on about him not being kira. Some of the voices in the series are there own jokes including Demigawa voice is exactly the same to Peter Griffin from Family Guy and Wateri is an old Japanase steriotype.  
MasendanX - Rem, Jelous, Wateri, Ukita, Various
Soowaba - Light, Matsuda (one episode only)
TommyGunner - Aizawa, Mogi, Ryuk, Various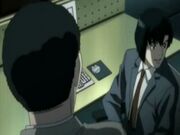 Goddalek - L, Matsuda, Various
0Isunny - Misa, Various
Shadowapple - Chief, Various
Eddache - Aiber

In 30th October 2012 Raginglimit had a massive argument over the abridged series with Liam after getting rid of shadowapple and tommygunner from the show. Ryan (raginglimit) left the show making Liam edit the show as well as writing the script after he left Liam said on his MasendanX channel he always hated some of the plot points in the series and how the series sometimes got off track. He mosly hated the fact L was gay but haven't reliesed it but he said he liked the way Light keeps giving away the fact that he is kira to L just when L isn't listening. Liam already scripted the new episode before raginglimit left and has said on MasendanX he is not changing the script however in the next episode I can have a sort of freedom of how the scipt should be written. He has not said if he is keeping the fact L is gay or if he wants to change it anyway.
Even though RagingLimit has talked to the voice actors about the change in the series and voice cast Liam is still trying to convince them that it he has left and how he is in charge of the series but has asked for help from some of this cast. Liam appears in Episode 3 or Desolation in a flashback however fellow voice actor Soowaba voices one of the main protaganist but he is loving the fact he is good enough to voice in another series besides his own.
DragonBall Z Yo! Goku Son and Friends Return
[
edit
|
edit source
]
A trailer was released a few episode before the end of the series finished the fan dub was the most watched thing on TheSakuraTV channel even though it was banned in the UK. MasendanX also released a statement about another fan dub would be done after season two however no plans so far has been made however TheSakuraTV has been trying to include TeamFourStar member MasakoXtreme however no conformation of that so far. Liam was so impressed by the voice of Gohan, Hercule, Steward and Tarble he included him in the abridged that is when the long search for a Light voice actor finally finished. He also tired to include CrazyJordan and his sister BratzAngel in his series but both refused due to personal influences. This dub had a good few voice actors including soowaba, MrWWFantitudefan, Derekotsu, xdasher, Tommygunner, crazyjordan, bratzangel, xigzag, masendanx, vilotprower and raginglimit. It was taken down in August and is set to remake due to it being an early project and poor sound quality.
DragonBall: Plan To Eradicate The Super Sayians
[
edit
|
edit source
]
MasendanX teamed up with his mate RagingLimit and created a new DBZ fan dub with several new actors including Teamfourstar member Megami33 from voices Bulma in both shows. Also new was Deadeye which continued to voice in the redubs of Death Note TAS series from episode 1 and 2 and to become the voice of Tai in Digimon Abridged. This was favored more to the Yo! Goku Son and Friends Returns dub due to its background music, editing, voice acting and sound effects a link to the redub is here http://youtu.be/IEzBcxCWN-g which is still on TheSakuraTV account. It was created in mid April 2013. Plans to also redub Battle of Gods is also in the works.
Liam lives in Wolverhampton which is close to Birmingham. He started impersonating South Park characters Eric Cartman, Mr Mackey, Butter Scotch and Mr Hankey he also does Football impressions including managers and footballers he is mates with fellow youtuber gamesatbilljames. Gamesatbilljames is the one MasendanX wanted to do an abridged series with during there college years but never got around to it they became mates because they are the only people in there college course who likes DragonBall Z and massive fans of Sean Schemmel. He studied Carpentry at college and never done any voice acting classes but has been complmented by many youtubers in the past. Liam met his mate Ryan Cross (RagingLimit) in his carpentry class however after three years of being friends a massive argument split them up over voice actors in the abridged series after Raginglimit said he was going to get rid of Shadowapple and also Tommygunner which annoyed Liam because he thought them two was the most loyal so after he left he gave Liam the password to TheSakuraTV youtube and left the series making Liam edit and write the series by himself. In 2013 he started Acting classes on advice from professional voice over actors Chris Sabat, Tara Platt and Mike McFarlane.
Abridgimation was fought up by Liam in early september as he plans to do another abridged series to the anime Yugioh GX. He says he is not intending to do a war of the abridgers as he is doing it purely for enjoyment and entertainment as to his other Project Death Note Abridged. On the 3rd November 2012 a pilot was uploaded on the AbridgimationMKD youtube account using two new abridgers KoolKeith1985 who did Jaden's voice and XDasherX26 who did Banner, Announcer and Yami Yugi in the first episode leaving Masendan with several roles including Jaden's friend Syrus Truesdale. Abridgimation also put up there own death note abridged however on 26th November 2012 it was terminated due to copywrite meaning AbridgimationMKD might not make a new video
Liam started at the end of August after his brother kept mentioning it to him for several months he fell in love with art and done over 200 and almost coming up to 300 deviations in 3 months. For people who liked his Death Note
but cannot comment because not having a youtube account usually tells him considerig it not being popular it is still a very good abridged series. Liam also does updates of his abridged series on Deviant Art as an Abridged Journal.
Light is a parody of Eminem stan where he writes a letter to Little Kuribo (another voice actor)
The heart of football was a parody of Madness's Baggie Trousers where it takes the piss out of negative footballer icluding John Terry sleeping with a mates missus and Balotelli and Joey Barton violent antics on the pitch.
Killer is a Music Parody of Michael Jacksons Thriller which was a song based on a TV game show Golden Balls.
Liam did a Michael Jackson tribute by singing 3 of his songs You Are Not Alone, Human Nature and the Earth Song. Which a few people commented saying he had the pitch perfect but needed to work on intensity which Liam said was a complement. Liam also made DragonBall Z song parodys including Krillin singing Mr Lonely by Akon and Vegeta singing Thriller by Michael Jackson.
Using fellow voice actor Chris Zunino who help sing the song in the voices of both Stewie Griffin and Brian Griffin from the popular show Family guy.
School of the Dead is a new creation and animated by MasendanX (Liam Dempsey) its about a study group who has to escape a zombie apocalyse and the rapture at the same time.Eight students was in a study group studying for there exams when it is interrupted by a zombie apocalypse they have to make it out the school and into the safe zone. The main cast's appearance is based on actual teen celebrities including Angus T. Jones and Chloe Grace-Mortez. Not all of them are going to survive, and not all of them stay sane in this hell as they find out the zombie apocalpse is not the only threat when they find out its acutally the rapture. All the good people got spared but all the bad ones have to withstand satan and his army who will survive and who will die. Trailer coming soon.
Community content is available under
CC-BY-SA
unless otherwise noted.