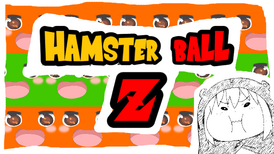 Summary
[
]
Oh boyo boy. A stupid anime that deserved an even crappier abridged series.
Plot
[
]
Hah... (Plots are for weak minded mammals that can't comprehend the deep intricacies of art.) It's okay, the original anime wasn't any better with a plot.
Culture
[
]
Hamster Ball Z has a variety of thriving internet cultures woven within its production. Such as...
"Vaporwave" I dieing medium of 90s influenced trippy elevator music. It was cool in 2013 and it won't ever be cool again.
"Youtube Poop" A screeching rampage of s**t posting that rapes every single cell in your ear canal. It's a genre that died in 2010, and will more than likely give you aids.
Music
[
]
Taste in music comes first here at Hamster Ball Z. That's why we've selected a key choice of home composed music by me, Don't Stop the Noise. (BTW you should totally follow me on soundcloud https://soundcloud.com/dont-stop-the-noise) These songs echo with personality, style, and class.
N' yuh know, I converted a couple obscure 2000s french house n' hip hop songs off of youtube, and slaped them in my video like I slaped yo great nana's ass… but that's not important.
Production
[
]
my editing style is like my ex girlfriend. It's a really disorientating experience, until you get inside. Then it's just tight and uncomfortable mess, and you get made fun of for your lack of masculinity.
Okay... Maybe a bit personal.
But yeah, I started using Adobe Premiere and After Effects for the past couple years, so production value should be superb.
Cast
[
]
Me (Don't Stop the Noise) - The annoyingg little s**tling known as Umaru chan
Matthew - Oni-Chan (it's currently 2:42 am and i don't feel like looking up his actual name. It's not like anyone actually cares.)
Airing

[

]