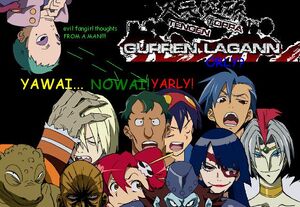 Gurren Lagann Reverse Spin is an Abriged Series of the show Tengen Toppa Gurren Lagann created by Meltaway Industries SP. The show stars Kazisaki (KazOfMeltaway) as Kamina And SlurTheMusicJunkie (Slur) as simon, along with some other members of Meltaway Industries SP
It was orriginally started as a picture comic using sprites from a Gurren Lagann game for the Nintendo DS untill Kazisaki decided to turn it into a video series. the comic has 9 issues and a spin-off. The first episode of the series is posted on their YouTube Account. the second episode was announced on the site in october 2010 but has had some delays in production however the group who created it are still hard at work trying to finish it.
The Theme song for this series is Sorairo Days by Masaaki Endoh (it is a cover of the song used in the orriginal series that was recorded by Shoko Nakagawa).
Currently only 1 episode has been produced. but another is said to be in production.
Episode 1 Musical Fanservice