Friendship is Magic: The Ultimate Abridged Series

Date Created

September 15th, 2011

Series Run

8 episodes complete, full first season of 26 episodes scheduled

Youtube Channel

www.youtube.com/user/ponypokey
Friendship is Magic: The Ultimate Abridged Series is the title of a My Little Pony: Friendship is Magic abridged series, produced by a team of three teenage bronies, under the Youtube Channel name, PonyPokey . The team consists of Bobby (The Grand Editor), Derek (The Man of a Hundred Voices), and Jake (The Producer). This Abridged Series is characterized by its use of 8-bit sound effects, 90's TV and pop culture references, casting of the three bronies' real life friends as voice talent, and use of video game soundtracks as background music. The characters' personalities within The Ultimate Abridged Series remain true to those presented in the actual show, but have added characteristics and are somewhat exaggerated. The characters are also aware of many of the headcannons created by the My Little Pony fandom.
Origin
[
]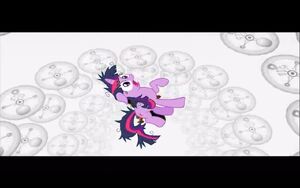 The idea for the series came about in late July 2011, during a small viewing party the three bronies had for a few episodes of My Little Pony: Friendship is Magic. While they watched, they would point out small eccentricities in the show, and general poke a little fun at the show. This soon evolved into making image macros and screencaps of the show itself, and within a few more viewing parties, they got the idea to start a My Little Pony based blog on Tumblr, and soon became a reality. On August 2nd, the blog Do The Pony Pokey was created as an outlet for the original content for My Little Pony made by the three bronies. After a couple of weeks of work on the blog, the idea for an abridged series began to make more and more sense to them, and quickly became a reality.
Production
[
]
The series is produced by using a combination of Sony Vegas for video editing, a Samson C01U Studio Condensor Microphone , Audacity for audio editing, and utilizes the Dropbox Service to share the production files between the three bronies easily.
Character/Voice List
[
]
The main characters in the show are voiced are by the main three bronies, while the other characters in the show are voiced by the friends of the bronies. The current voice listing is as follows:
Mane 6
[
]
Twilight Sparkle/Rainbow Dash/Flutterguy (First 7 Episodes)- Derek
Rarity/Spike- Jake
Pinkie Pie/Applejack/Fluttershy- Bobby
Side Characters (Updates With Each Episode)
[
]
Narrator/Derpy Hooves/John Madden- Derek
Princess Celestia/Luna/Steven Magnet- Lizzi
Nightmare Moon- Cameron
The Shadowbolts/Bon-Bon/Karkat- Bobby
Lyra- Leah
Mayor Mare/Mayor Quimby- Jake
Horte Cuisine/Angel the Rabbit- Sam
Gilda/Nurse Redheart/The Great and Powerful Trixie- Jake
Big Macintosh- Murphy
Lily/Daisy/Roseluck- Shane
Apple Bloom- Damian
Other Content
[
]
Aside from The Ultimate Abridged Series, the bronies behind the PonyPokey also create other content based on My Little Pony: Friendship is Magic. Other side projects include:
Episode List
[
]