Dokuro-Chan Abridged

Created By:

Starring:

Xcaliborg, SaitonoEx, TheMisakiDubs, Sydsnap, NeumanProductions.

Episodes:

9 & 1 Redux

Running Time:

27/09/2010 - Present

Link:
Dokuro-Chan Abridged is a series created by LoliWithAnExcaliborg & SaitonoEx. The series is written by SaitonoEx and LoliWithAnExcaliborg and edited by LoliWithAnExcaliborg. This was LoliWithAnExcaliborg's first series before moving to Denpa Onna, it has finished it's first season.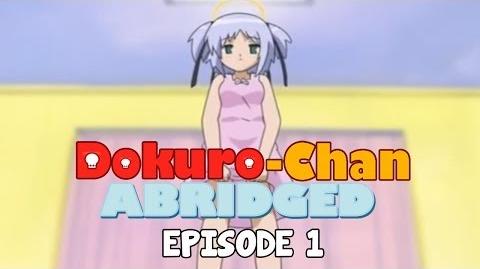 Xcaliborg: Sakura, Shizuki, Zansu, Narrator & Extras.
SaitonoEx: Miyamoto, Sabato, Teacher, Sampson & Extras.
MsHachan: Dokuro (Episode 1-6).
StephanieW: Dokuro (Episode 7).
TheMisakiDubs: Dokuro (Episode 8 onwards).
Sydsnap: Chere, Zakuro, Minami & Extras.
OreimoAbridged: Himself.
TransformingMorpher: Dodge-Ball Player.
NeumanProductions: Himself.
| Episodes | Air Date |
| --- | --- |
| Episode 1 - Pilot | Sep 27, 2010 |
| Episode 2 - Angels...From The Future! | N/A |
| Episode 3 - Referencing FTW! | N/A |
| Episode 4 - Horror Cinema In 3D | May 20, 2011 |
| Episode 5 - Sakura The Lifeguard | Jul 18, 2011 |
| Episode 1 - REDUX | Sep 12, 2011 |
| Episode 6 - Forests Are So Mainstream | Oct 5, 2011 |
| Episode 7 - Goodbye Zansu-Chan | Feb 23, 2012 |
| Episodes | Air Date |
| --- | --- |
| Episode 8 - Look at that big ole' Stream! | Sep 10, 2012 |
| Episode 9 - Worst. Episode. Ever. | Apr 18, 2013 |
Scene pausing whilst both LoliWithAnExcaliborg & SaitonoEx argue/ discuss the script.
Zansu being the main character and having his own channel.
Sakura's hate for anything that is of a mainstream variety and Neuman.
The obvious death counter.
Disregarding the actual plot due to nobody knowing why Dokuro was sent to the past in the first place.
Fourth wall breaking.
The darker skinned kid being named Sampson and SaitonoEx's dislike of that name.
The idea to start this abridged series was due to LoliWithAnExcaliborg watching an AMV based on Dokuro-Chan, then watching the whole series. He liked it and pitched it to SaitonoEx, they began scripting soon after.
Sakura's voice was originally based on an impersonation of Ash Ketchum in a live action spoof LWAE made 2 years previous.
Miyamoto's voice was based on that same spoof.
Zansu was originally going to be played by SaitonoEx, however LWAE decided to take over.
Zansu has his own youtube channel in which he posts diary entries every once a month.
Shizuki's voice has changed almost 5 times throughout the series. One of those times being a completely different voice actor. (Episode 4)
The series is highly based on references to other shows, this is usually when SaitonoEx has a say in the script.
Episode 6 is the first episode that had widescreen and a full cast.
LoliWithAnExcaliborg's name is derived from the actual anime series.
From Episode 7 onwards, Zansu has not updated his diary entries, this is due to him being stuck under the rubble still.
Episode 8 reverted back to the normal aspect ratio as well as Dokuro being played by 'TheMisakiDubs'.
Community content is available under
CC-BY-SA
unless otherwise noted.