DEADMAN WONDERLAND ABRIDGED

Creator

CTAkutabi
Billyteafroman

Starring

Billytheafroman
YukikazeRailgun
PoniiChan
BlackIrisBalloon
Labamba
Arilburu
Alifluro
RCCeptor5665

Run

05/26/2012 - Present

Episodes

7

Link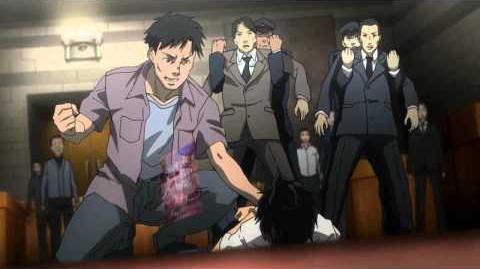 Deadman Wonderland Abridged (sometimes abbreviated to DMWL:Abridged) is a parody of the popular anime based on the manga by Jinsei Kataoka and Kazuma Kondo, created by Youtuber CTAkutabi. Co-written by voice actor Billytheafroman, it is the pair's first attempt at a long-running parody series; currently standing at 7 episodes out of the planned 12, as well as a bonus (episode 6.5).
The project first began in early 2012 when editor and creator of the series, CTAkutabi, came across an AMV by longtime friend Billytheafroman, featuring the song Dead Man by band We As Human set to visuals of Deadman Wonderland. With no other basis than the feeling that clips from the AMV would "look good" in the opening to an Abridged, CT began scripting on a possible parody series of the show. The initial writing process took several months of re-scripting, suffering numerous re-writes until the project finally kicked off.
Knowing that he himself was lacking in any voice talent, CT contacted close friend Billytheafroman (then an avid fan of voice acting) to play several parts in the series. Following a long audition process, subsequent cast members joined the team, including mainstays YukikazeRailgun, BlackIrisBalloon, Labamba, Arilburu and finally Sydsnap.
Episode 1 was released several weeks later on May 26 2012 and episode 2 two months later. Due to copyright claims filed, episodes 3 and 4 were never uploaded to Youtube, instead taking up residence on Dailymotion.
Episodes 5, 6 and 7 were released throughout 2013 before a hiatus on the project was announced (supposed to resume 2014)
DMWL:Abridged follows the adventures of Ganta (voiced by YukikazeRailgun), a sarcastic and slow-witted young boy, through the madness and nonsensical maximum security prison Deadman Wonderland. Along the way he encounters many colourful characters such as the potentially homosexual Yo Takami, the playfully sadistic Tsunenaga Tamaki and an obviously psychotic girl known only as "Shiro".
As the series goes on, Ganta has to face many challenges such as the merciless Carnival Corpse (a fight to the death in front of questionable viewers) and the battle between an enigmatic and incompitent group dubbed "Scar Chain" against the elite prison guards, the Undertakers.
Recurring:
Billytheafroman - Tsunenaga Tamaki, The Announcer, Azuma Genkaku, Kozuji Kazumasa, Rei Takashima (2/2), Senji Kiyomasa (2/2), Various Extras
Yukikaze Railgun - Ganta Igarashi
PoniiChan - Shiro (2/2)
BlackIrisBalloon - Yo Takami, Various Extras
Labamba - Minatsuki Takami, Karako Koshio
Arilburu - Nagi Kengamine, Various Extras
Alifluro - Makina (2/2), Kasuga Kyoko (2/2)
RCCeptor5665 - Hagire Rinchiro (2/2), Toto

Guest Stars:
NeroDeathBringer - "The Twins"
CTAkutabi - Various Extras
Joshua Shaw - Matsu
MookieChew - The Wretched Egg
ElkaStone - Hibana Daida, Mimi
Millaninja06 - Various Extras

Former Cast:
Sydsnap - Shiro (1/2)
SatanicCreatures - Senji Kiyomasa (1/2)
CeruleanAsh - Rei Takashima (1/2)
Ebiichigo - Makina (1/2), Kasuga Kyoko (1/2)
| Episodes | Air Date |
| --- | --- |
| Episode 1 | May 26, 2012 |
| Episode 2 | Jul 18, 2012 |
| Episode 3 | Sep 21, 2012 |
| Episode 4 | N/A |
| Episode 5 | Feb 1, 2013 |
| Episode 6 | Mar 7, 2013 |
| Episode 7 | Jun 4, 2013 |
Ganta constantly states that "This is the worst [insert time frame] ever!" and proceeds to list everything bad that has happened to him in the course of the series, often emphasising menial tasks such as "manual work".
The Announcer's use of advertisements and inappropriate statements in dire situations
Makina's disdain at her lack of "screen-time" despite being a supposed main character
Yo's homosexual passes at Ganta (which are innocently ignored by the latter)
Yo forgetting he has a sister
Minatsuki's excessively foul mouth
Senji, when caught off guard, will often exclaim that said attack was his "one weakness" e.g. Traquilisers, flower-pots and boobs.
The mortal combat "Fatality" sound is played after every defeat in the Carnival Corpse
Nagi's vocal chords being replaced with "guitar chords" to the effect that they often play music suiting a situation. e.g. When Genkaku is introduced they play "Crazy Train" by Ozzy Osbourne
Genkaku constantly being either stoned and/or drunk
The original opening of the show was the song Dead Man by We As Human, in reference to the title of the show. This was later changed, in episode six, to the song Original Sin by Emphatic, supposedly as a reference to the Branch of Sin (the power used by Deadmen in the series)
A mid-season extra episode titled "A Day in the Life of Makina" was released between episodes 6 and 7
CT often uses actors he personally knows from school and/or college to voice in the series; examples of these including Billytheafroman, MookieChew and Joshua Shaw
Several characters were re-cast midway through the series due to communication issues with several cast members; most notable of these being Rei Takashima who was given a drastically different voice. This is explained as a result of her chain smoking
Community content is available under
CC-BY-SA
unless otherwise noted.