CubicalWings, is a Canadian content creator who primarily specializes in video editing, and visual effects. He is most known for his work on Gurren Lackin' (Gurren Lagann Abridged), created by himself, and is friend PoptimusPrime
Cubical started off his YouTube career on May 12 2014, were he uploaded short videos of glitches he ran into while playing games. The videos ended up turning into a series he titles Strange Moments in Gaming, which currently consists of 38 episodes. Cubical has yet to upload a new video to his channel since May 9, 2017, due to the fact he's been working with other content creators, such as BridgeBrains, and PoptimusPrime.
Although his youtube career started in 2014, Cubical had been making videos far before that. At the age of 15, Cubical started off making live action skits with friends after going through a school course that taught basic film making. Cubical has since uploaded a few skits onto a separate onto a sparate Youtube channel that he made. In his seinor year in high school, Cubical had decided that he would pursue a career in the art of film. He applied to multiple film schools and was finally accepted into Capilano University in Vancouver, for the Motion Picture Arts program. Originally Cubical attended the school in hopes to become a film director, however after taking advanced courses in video editing, his ambitions slowly changed to becoming a professional video editor. 
In 2016, after completing one year at Capilano, he moved back home due to some personal stress he was having. Once he got back, he decided to attend a local college and study web design. Cubical also continued on with his Strange Moments in Gaming series. Unfortunatly to him he felt like there was no creativity in the series, simply just a highlight reel of some bad moments he got in a game. After a few months of studying web design, and doing minimal video editing work, he started getting stressed about not using his film background to find any creative outlets. That was until he was approched by his good friend PoptimusPrime, who came to him with an idea. Poptimus wanted to create an abridged series, based on a show they both loved, and use Cubical's knowledge of video editing to make it. It wasn't hard to convince Cubical to join him, and that was how he was introduced to the world of Abridgedments.
It wasn't long until Cubical reach out to other content creators and start working along side new people. On October 3, 2017 Cubical Joined the BridgeBrains Discord channel, where he met JChippers. JChippers got in contact with Cubical shortly after joining the server, asking him if he would be interested in editing his abridged series ADA (Absolute Duo Abridged).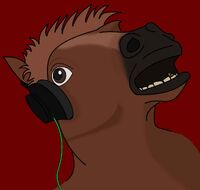 On November 23, 2017 Cubical bacame an offical member of BridgeBrains, and was introduce publicly as a member on December 5, 2017 on the BridgeBrains YouTube Channel. It was on this day that he would make his debut with a horse mask. Eventually it became a running joke around the BridgeBrains discord server, that Cubical just embrased it and became THE WorkHorse. Cubical made a new profile picture and even took on a persona of a horse man (not to be mistaken as a Bronie).
Another thing that Cubical is known for, is his over obsession with the Shia Labeouf meme, to the point where he has hidden it in every single abridged project he's worked on. So far only a few Shia's have been located within the projects he's tied to, but theres still more that haven't been descovered.
Gurren Lackin' Episode 1 (Gurren Lagann Abridged) - Video Editor, Voice Actor
Gurren Lackin' Episode 2 (Gurren Lagann Abridged) - Video Editor, Voice Actor
ADA (Absolute Duo Abridged) Episode 3 - Video Editor
Kill haHAA Kill - One Off (Kill la Kill Abridged) - Video Editor
MAN CHILDREN - An Abridger's Story (Hanamaru Kindergarten One Shot) - Video Editor
Kemono Friends Abridged - Episode 3 - Assistant Video Editor
Little Witch Abridged - Episode 1 - Assistant Video Editor
Attended Capilano University for Motion Picture Arts in 2015-2016
Made his first video in his grade 6 year titled little tortilla boy
Works as a Video Editor for a Startup Company called Volcanic Gaming
Joined BridgeBrians in November of 2017
His first abridgement was Gurren Lackin' Episode 1 (Gurren Lagann Abridged)
Did you know he loves to edit...
His first voice role was playing extras in Gurren Lackin' Episode 1 (Gurren Lagann Abridged)
His first main voice role was Ron in Gurren Lackin' Episode 2 (Gurren Lagann Abridged)
The only abridged he'd seen before making Gurren lackin', was Hellsing Ultimate Abridged
He has not shown his face once after joining BridgeBrains
Although his face isn't fully advertised, you can still find videos of him if you dig far enough
Community content is available under
CC-BY-SA
unless otherwise noted.