Episode 02: "Hello Chirrens!"

Aired On:

August 21st, 2012

Length

11:56

Cast:

Kimmy13r

SonCurran

TheFuchsiaFox

UltimateGamerist

ReverseSoda

SliceOfDog

Ninjaheart100

RadioKhmerSitya

XKuroiXMasayoshiX

X1xSakuraYukkix7X

Saga:

Ishibashi Arc (Season 1)

Written By:

SonCurran, ReverseSoda

Resolution

16:9 - 720 x 480 (480p)
Sensei Kojiro, still desperate to get Tamaki on the Kendo team, gets a hold of her student files. Back at the dojo, Kojiro was forced to tell Nakata why he wanted 5 girls so badly. He explains the bet between him and his senpai Ishbashi, that if Kojiro won the match, he'd earn an entire year's worth of Lightbulbs and Sushi. Nakata is flabbergasted by Kojiro's selfishness. Later, Donny introduces his girlfriend, Miya Miya to Kirino, Nakata, and Kojiro. Miya Miya becomes the 3rd member of the Kendo team. Toyama and Iwasa, two bullies, confront Kojiro, Kirino, and Nakata on the staircase. Kojiro threatens Toyama so that he would come to class, but after the confrontation. He beats Donny, a freshman, new to the Kendo team. Miya Miya watches in horror while Tamaki and Kirino show up at the dojo. Tamaki's disgust for bullying convinces herself to challenge Toyama to a Kendo match. It would appear that Tamaki had won the match, making her decide to join the Kendo team as their 4th girl member.</p>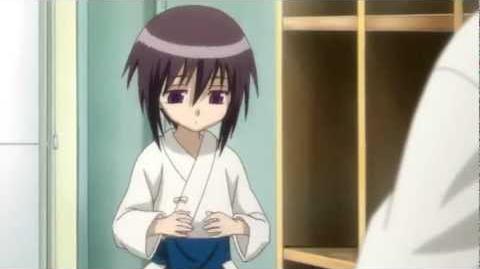 Kimmy13r - Kirino
TheFuchsiaFox - Sensei KOJIRO!
SonCurran - Tamaki, Nakata, Takasugi
ReverseSoda - Donny
UltimateGamerist - Sensei Ishbashi, Cook
SliceOfDog - Toyama
Ninjaheart100 - Iwasa
XKuroixMasayoshiX- Tamaki's Father
RadioKhmerSitya - Miya Miya
X1xSakuraYukkix7X - Ms. Yoshikawa
References

Edit
Cojiro! Used by LP'er NintendoCaprisun.
Playing with sticks.
Men
Tokyo Drift
Hello Chirrens
iPhone
Galaxy Phone
Snake (Game)
Bitchin'! From Lucky Star
Hellgirl
A part of the episode wasn't recorded in the script.
Tamaki reads the disclaimer for this episode.
Every time Kirino talks, Tamaki gets back luck in Kendo matches.
Tamaki actually cheated in the match against Toyama, unlike the anime.
'Tamaki: Kirino, these pants are too big for me.
'Kirino: Oh, you'll grow into them!
'Tamaki: I'm only doing this for one day.
'Kirino: That'll have to do until you get your own stuff.
'Tamaki: I'm only doing this for one day!
'Kirino: Do those fit you okay?
'Tamaki: '''Pants..too..big...hymn..too..long!
'Kirino: You'll do great! Kick his ass!!!!
Community content is available under
CC-BY-SA
unless otherwise noted.