Episode 01: "Quote on Quote: Adorable Girls"

Aired On:

March 15th, 2012

Length:

8:06

Cast:

Kimmy13r

SonCurran

TheFuchsiaFox

UltimateGamerist

ReverseSoda

Saga:

Ishibashi Arc (Season 1)

Written By

SonCurran, RadioKhmerSitya

Resolution

16:9 - 720 X 480 (480p)
Synopsis
[
]
The story starts out in the Muroe High School Dojo, where a Kendo teacher struggles to make it. There is only one member on the team, Kirino Chiba, a very high energy girl who tries to get her Sensei Kojiro to train her for at least an hour. Sensei Kojiro's goal is to get 5 girls for a practice match against his Senpai, Kenzuburo Ishibashi. After searching with Kirino, he finds a girl named Tamaki, who he desperately wants on the team. Nakata and Donny join the Kendo team anyway, even though they won't be participating in the 5 girls match against Ishibashi's team.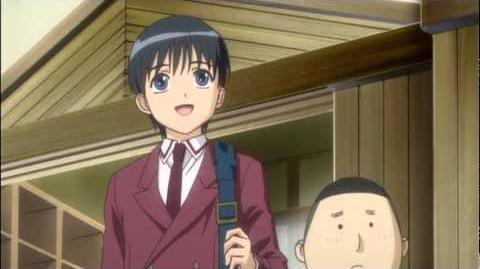 Cast
[
]
Kimmy13r - Kirino
TheFuchsiaFox - Sensei KOJIRO!
SonCurran - Tamaki, Nakata
ReverseSoda - Donny
UltimateGamerist - Sensei Ishbashi
References
[
]
Cojiro! Used by LP'er NintendoCaprisun.
Playing with sticks.
Men
Finder on a Mac. How expensive the Macs are.
Maaaaann!! From "Threw it on the Ground!" by LonelyIsland.
Screamo music.
Number Six in German.
Trivia
[
]
LilBizi (Zonny Nguyen) was originally Nakata's voice actor, but SonCurran took it over.
Tamaki was supposed to be voiced by Emily Boulware, but SonCurran took it over.
CarbonKirby was the first voice actor for Donny, but ReverseSoda took it over.
Tamaki reads the disclaimer for this episode.
Quotes
[
]
​​Kirino: Swinging my stick, swinging my stick. If I wasn't a girl, I'd be swinging my-
Kojiro: Do you mind shutting the hell up?!
Kirino: Why? Was that your girlfriend, Sensei? What does she look like? Is she fat? Does she do Kendo and play with sticks like I do? 
Kojiro:  Well...She plays with sticks. I'm tired, just take it easy.
Kirino: And I'm bored, it's so nice to meet you! Also, we won't win any competitions at this rate. So why don't you get off your butt and teach, Sensei?
Kojiro: You're the only one here, you dumb f*&k! This class is an elective.
Kojiro: I'm broke as hell… and this checkbook looks like the Finder on a Mac. How they can afford to pull that off, but not feed me?
*Busts ceiling light*
Kojiro: My last light bulb…