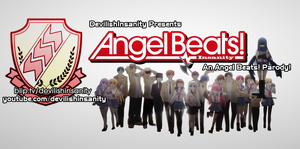 Angel Beats! Insanity is a Parody Series of the anime Angel Beats!, The channel was initially a collaboration with the Creator of Green Green Abridged and DearS Abridged Devilkicksanji2 and Editor/Voice Actor InsanitySanctum.
DevilishInsanity was born, and Angel Beats! Insanity is the first Parody from the Team.
The Parody Is Written by devilkicksanji and Edited by insanitysanctum (Ep1+2), Stormblade13 (Ep3), Redbeast13 (Ep3+4), LionRivalFightingPar and Wildcard (Ep5), and BektostheBlackBlade (Ep6).
Through many trials, the parody has had ups and downs due to losses from editors and VAs alike. However, Devilkicksanji2 has continued the series. Made as a "love letter" to one of Devilkicksanji2's first abridged appearances, TeamAARU's Angel Beats Abridged (playing Noda and Takamatsu), Angel Beats Insanity incorporated many TeamAARU members as well as recognizable abridged creators over the years. Angel Beats Insanity is a parody that hopes to not only make people laugh but also tear up, just as the original.
Episodes 1-6 will cover the original 6 episodes and be considered Season 1.
Episodes 7-10 will also cover their respective episodes and be considered Season 2.
Episodes 11-13+OVA 1 shall be combined to create a movie finale to the whole series, along with 4 different endings.
Episode OVA 2 will be a series Epilogue that further shows and demonstrates its place in the overall "devilkicksanji Abridged Universe", mainly in relation to other projects such as Ouran The Abridged Host Club and OverBridged (which serves as a lynch pin for the overall universe, in a sense).
FUN FACTS AND TRIVIA:
devilkicksanji reprises his roles of Noda and Takamatsu from TeamAARU's Angel Beats Abridged as well as Sandersthepimp as Matsushita.
TK speaks broken Spanish (along with English) as a reference to how ADV Films used to localize English speakers on anime, by speaking Spanish, such as in Azumanga Daioh.
BlueRockAngel100 (voice of Yuri in Eps 1-2) voiced Iwasawa while Kitaruful (voice of Hisako) voiced Yuri in the TeamAARU Angel Beats Abridged.
Kendall916 voices Irie and Sekine similarly to how she voiced Ako and Riko in KissXSis Abridged.
Darkwolfblade7 (voice of Oyama in Ep 1) created KissXSis Abridged.
Ryuzakimk7 (voice of Hinata in Eps 1-6) had previously worked on and played Hinata in other Angel Beats parodies.
Fujimaki is the resident delinquent degenerate who is not afraid to say what's on his mind in relation to his "D" or what he'd like to do to Yuri, even enjoying a quick glance of panties while getting simultaneously kicked.
Yuri wears purple and white striped panties...glorious.
Yusa is a rejected personification of Glados from Portal, hence her robotic voice.
Shina's dialogue almost always has a quote or reference to a horror movie (her fav movie genre).
G15Manitou, voice of Shina, created and completed Ouran the Vaguely Abridged Series which devilkicksanji had a cameo in the finale.
The PWN'D counter was inspired by TeamAARU's Highschool of the Dead Abridged death count (meaning it was meant for everyone). Stipulations do apply to the counter: 1) person must usually get knocked down to the ground, 2) eyes completely white out, 3) says "bleh," 4) any combination or singular point may count.
Takamatsu is aware of the PWN'D counter.
In Ep 2, Bigmanizbkagainyo3, creator of Fairy Tail Abridged, cameos as Natsu.
In Ep 2, when Otonashi climbs Yuri and wonders if her breasts are C-cups (later confirmed in Ep 3 by Fujimaki who was killed by copping a feel) is a reference to TeamAARU's Black Note, in which BlueRockAngel100's character confirms that she is a C-cup.
Apparently, Yuri doesn't mind getting it on with someone in the Battlefront, so long as they get her permission, like Otonashi yelling out before climbing up her.
Yuri does understand some Spanish but will feign ignorance if the situation needs.
The band, Girls Dead Monster, is basically the group Heavenly when they play (with Iwasawa).
The first song played in Ep 1, Ode To Joy, has lyrics that match to the theme of the show/parody.
In Ep 3, the first song played by GDM is Heavenly's "Virus", which also has lyrics that are attuned to the series and serves as a clue for the movie. The second song is "Prince of the World", which the final section is used as tribute to Iwasawa at the ending.
When Iwsawa sings with all her heart and soul, she is Dream Theater.
In Ep 3, MrArkonid voices L, who is from kpts4tv's Death Note Abridged.
In Ep 3, Stephanie W. plays an off screen cameo as Yuno and Yuki from ZeroQ's (YunoInbox's) Mirai Nikki An Abridged Series.
In Ep 3, it's revealed that almost every Key drink just tastes like coffee, even the water.
Iwasawa's flashback is a giant reference to ZeroQ's previous abridged works, such Iwasawa's dad using Keiichi's voice (from Higurashi Parody Fandub) complaining about wanting to wear a thong and the song Iwasawa listens to in the music store is the first OP for Umineko Parody Fandub.
Iwasawa mentions eating melon bread before collapsing in her flashback, referencing a popular snack item in DearS Abridged that leads to many problems.
Iwasawa's flashback sheds light on how the "real world" for anime characters works similar to our world. All of them were artists and actors trying to find jobs in what we eventually watch as anime or play in games.
Takeyama's scream at the end of Ep 3 was performed by a voice sample from Scary Movie.
Yui is into autoerotic asphyxiation and performs it in front of the Battlefront in the beginning of Ep 4, which coined the phrase "pulled a Yui".
The opening of "Get Ready To Die" is sung like a vocaloid in Ep 4 by Yui (being a Vocaloid/Death Note crossover reject) much like how she sang the opening in the original show.
The audio for Shina's brain, in Ep 4, was used from an audio sample from the Looney Tunes short "The Duxorcist".
Takeyama is the one who technically installed the camera that pops up under Yui's skirt, hence his self gratified laughter during the baseball montage.
Takamatsu is able to manipulate time, space, and reality to an extent via remote.
In Ep 4, Runawayturist cameos as a baseball senior student who offers Hinata some drugs.
Ryuzakimk7 and Runawayturist both have created Infinite Stratos parodies and voiced Ichika.
In Ep 5, gigguk cameos as the principal, affectionately named, Fuyutsuki.
Oyama would basically be with any guy in the Battlefront EXCEPT Hinata.
Oyama crapping himself, in Ep 5, is a reference to a similar gag performed in TeamAARU's Corpse Princess Abridged Ep 3.
In Ep 5, the song played by Girls Dead Monster 2.0 is Within Temptation's "Demon's Fate," which exposits that Yui has a great singing voice when in a group as well as continues to foreshadow the events of the movie with the lyrics.
During the concert in Ep 5, it is shown that Takeyama has a sick taste in fetishes after what happened in Ep 3.
Shina knows a bit of Spanish.
Cast
[
]
devilkicksanji2- TK,Noda,Takamatsu
insanitysanctum (Ep1+2), PyrOMG (Ep3), RandomHero (Ep4+) - Otonashi
BlueRockAngel100 (Ep1+2), Sydsnap (Ep3), Alifluro (Ep4+) - Yurippe
cutelittlechibi (Ep1+2), Sakiseshy (Ep3+) - Angel
Ryuzakimk7 (Ep1-6), BektostheBlackBlade (Ep7+) - Hinata
MrSkoringo - Fujimaki
Darkwolfblade7 (Ep1), Xcaliborg (Ep2+) - Oyama
sandersthepimp - Matsushita
Zero-Q - Iwasawa
G15Manitou - Shina
AimiHime (Ep1), YashaXMETAS (Ep3+) - Yusa
Kitaruful (Ep1-6), N-13 (Ep7-Movie), Naomified (OVA 2) - Hisako
kendall916 - Irie, Sekine
magicalhelena - Yui
Mandos - Char
SkyYuyo - Takeyama
wander130 (Ep4-6), YashaXMETAS (Ep7+) - Naoi
Episodes
[
]
And Subscribe to the Channel!
View the Latest Episodes ->