We're Getting Mutants in the MCU - The Loop
Play Sound
Anax of Rhodes
[
]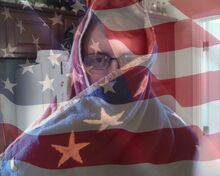 Anax is a retired abridger and voice-actor.  His most notable project is Abridgelion, a Neon Genesis Evangelion parody, ending with "End of Evangelion." He has also made a one-shot parody of "Ninja Scroll," called Ninja 'Scridged; and a one-shot parody combining "Sword of the Stranger" and "School Days," called Stranger Days.
Roles
[
]
Abridgelion (own) – Shinji, Toji, Aida, the Dr. (Ritsuko), Asuka, several minor roles; director, writer, main editor
Ninja 'Scridged (own) - Tessai, Ninja 2; director, writer, main editor
Stranger Days (own) - No-Name; director, writer, main editor
Attack On Titan Abridged (Colonel Cubbage) – Eld/Some Dude, several minor roles
Abridging the Rebellion (Copley, StarKhan) – extra soldier voice
Diabolik Lovers Abridged (ADHDgonewild7) – Shuu
Channels
[
]
Trivia
[
]
The name "Anax" just sounded cool. "of Rhodes" just sounded cooler.
Anax represented the straight, white, male, conservative, Christian, American minority on AbridgedForums.com.
Anax works as a geologist at a copper mine in the barren, deserted, desert wasteland of Not-Phoenix, Arizona.
Anax will not be abridging the Evangelion Rebuilds.
Anax is a current events junkie who will no doubt one day die of political overdose.
Anax just wants to grill, man.