Welcome to the Abridged Series Wiki
Welcome to the Abridged Series Wiki, officially a partner of the Abridged Archive! This wiki is dedicated to documented information on all abridging, a video genre on YouTube in which a media (generally anime) is parodying by the critique and change of voice, personality and overall feel.
We currently have 1,324 articles about everything related to abridging. This includes the abridged series', the people who make it, episode lists and much more. And you can help too.
If you have any questions, feel free to contact one of the admins.

---
Please follow the following rules, when editing this Wiki:

No Bullying: Keep all bigotry, racism, sexism, religious attacks, and all hateful speech off this Wiki.
No Spamming: Do not spam messages or advertise. Keep all content related to abridging.
No Inappropriate Content: Do not post NSFW content or anything that breaks the law.
No Malicious Accustions: Do not post claims of criminal activity by featured subjects. This is not the place for it
Guidelines: Please follow these guidelines before making or editing articles.
---
If you are new here, feel free to use these base templates when designing your page
Featured Article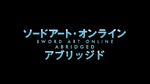 SAO (Sword Art Online) Abridged Parody is an abridged series by Something Witty Entertainment under the YouTube channel SWEabridged. It is a parody of the anime series Sword Art Online.

The plot follows very closely to the original series, but characters are often quite different from their canon counterparts, and some even have different names.
News
Abridging News
---
MasakoX left ChannelAwesome in the wake of the recent channel controversy. (4/19/2018)
Wiki News
---
New logo, made by Chaossaii (9/19/2019)
Abridged Archive and the wiki have entered a partnership, to focus on archiving the past and the present of abridging. (4/21/2018)
The Wiki has been redesigned partially! (4/20/2018)
Community content is available under
CC-BY-SA
unless otherwise noted.