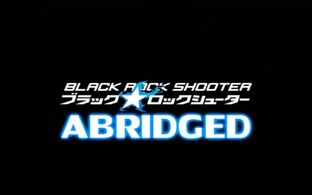 AbridgedRockShooter (OVA) is a series of 4 episodes paroding the OVA "BlackRockShooter" created by The AbridgedRockShooter Team . Unlike many Abridged series', the cast for ARS OVA is dominantly female, with males having bit parts and extra roles. The Abridged series takes many liberties regarding the plot of the original, and makes up new personalities for characters who had no dialogue in the original OVA. As half of the OVA is set in a world where no one talks, this leads to many comedic possibilites.
Production
[
]
AbridgedRockShooter began production in late May and ended in early July with the finale episode "Braveheart". Outsourcing for the voice acting was kept to a minimum and all of the major voice actors in AbridgedRockShooter are local. At a total of 4 episodes, it is one of the shortest Abridged series', but it is also one of the only ones to have actually finished a complete run.
Recently, a pseudo-"Season 2" was announced titled "ARS2012TV" based on the 2012 Anime that was in turn based on the OVA. The cast for this series will be slightly different, and total 8 episodes instead of 4, along with episodes being longer and allowing more time to develop character.
Criticism
[
]
The early episodes of ARS are criticized for their abundant hate every character has. Early episodes are also hit with complaints of the small aspect ratio and low quality audio design, while later episodes are praised for their fullscreen and sound effects.
Episodes
[
]
Note: The first episodes are in a small aspect ratio, while the later ones are fullscreen. There are plans to re-release episodes 1, 2, and 3 as AbridgedRockShooter HD, being re-rendered in fullscreen.